You learn something new every day. JUST ADMIT IT.
So, every once in a while, when inspiration is low, I google something random, click the 'images' button, and see what comes up. It's how I came up with the elephant poop picture, which got me in trouble, but nevermind that.*


Today, rather than put up one of my usual Friday posts about booze and post some picture of a pint of Guinness or some other lovely potable, I decided I'd do another art post. But what artist or painting to feature?

Well...it so happens I have an old Skids song in my head, "
Thanatos
." So I google it, and of course get the usual smattering of Wikipedia entries, Greek Mythology links, Deathmetal band sites, etc. And of course when I clicked Google Images, well...the less said about silly fantasy "art," the better.

But.... hello, what have we here?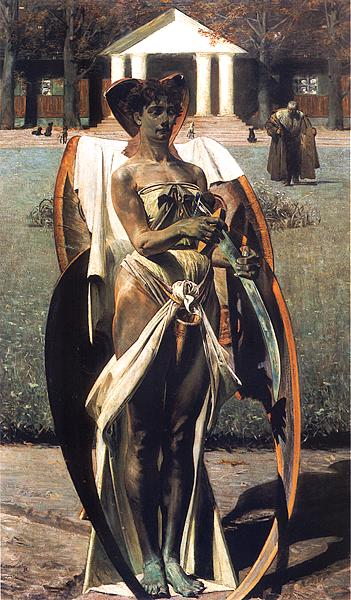 Jacek Malczewski, Thanatos I. 1898. Olej na płótnie. 124 x 74 cm. Muzeum Narodowe, Poznań.
Fantastic, isn't she? I love how she's all dark blue at the feet, and muscular, and holding a scythe with her big man-hands. And are those some crazy art-nouveau wings she's sporting? And is she resting some part of her clothing on them? Are those two black dogs in the background over her right shoulder, and are they also symbols of impending death? Who's that guy over her left shoulder, and why is he taking his overcoat off? Or is he putting it on? And what's that thing hanging from her belt, just over her groin? What's going ON here? I must consider this painting in depth.
And the artist? Sorry to say I'm unfamiliar with him. But I've poked around a little on various sites trying to find a good, clear link to this particular painting, and I'm intrigued. So I think I shall spend a good portion of my day investigating his life and work.
Question of the day:
What would you rather do?

A. Eat 2,000 calories a day
B. Drink 2,000 calories a day
*Fuck it.